TLC Noted by Movies.com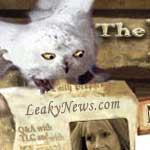 Jul 21, 2004
Uncategorized
A while ago TLC, along with a number of other HP sites, was nominated for a Movies.com fan site award; there apparently was voting involved, but the notification e-mail got lost in the morass that is my inbox and it seems the majority of Leaky fans, as a result, had no idea about this. (Count me among that number.) For that I apologize, but we heartily congratulate the always terrific Mugglenet and the professional and well-run DanRadcliffe.com for moving on to Round 2 of deliberations. Go vote for them!
As for us, we still have ourselves a great little award, and are proud as always to have been nominated. We'll add this to our Awards page quite proudly.
Update: Whoops, it wasn't "a number of other sites"; the only other site to be nominated that we haven't mentioned is HPANA. The site received a certificate as well. Thanks to the reader who let me know; see how on top of this I am?