Harry Potter Film Boosts Time Warner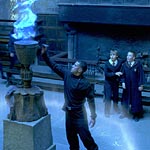 Jul 28, 2004
Uncategorized
Time-Warner Inc. posted better than expected quarterly profits of $777 million, due in part to the success of the Prisoner of Azkaban film.
Notable theatrical releases during the quarter included Warner Bros. 'Harry Potter and the Prisoner of Azkaban' and 'Troy,' which to date have generated worldwide box office receipts of 703 million and 484 million dollars respectively," the company said.
Time-Warner, owner of the Warner Brothers studio which made the Harry Potter film, is the worlds largest media company.