ADMIN: Categorized News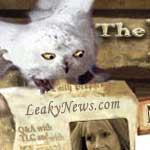 Jul 30, 2004
Uncategorized
Update – I've fixed the link to the Leaky Book Six News LiveJournal Feed now – sorry about that.
We've been meaning to do this for a while and haven't had the time, but found some between 4:30 and 4:31 a.m.
You can now customize your news-gathering from Leaky. Look at the drop-down menus on the right sidebar. One is for RSS feeds, another for LiveJournal feeds, one for each of Leaky's news categories.
Our regular LJ and RSS feeds ship out our news, so that readers can look at a streamlined list of headlines, be alerted when there's news via Web site, and generally have the news come to them instead of vice versa. With Leaky's categorized feeds readers can shape their HP news-reading to their own interests and needs.
Confused? Yeah, I know, this was all Greek to me until a few days ago. Read on, it's not too hard to grasp after a minute or so.
Say, for instance, you only want to hear news about book six. If you'd like to be alerted when there's a book six item and have a LiveJournal, you simply add the Leaky Book Six News LiveJournal Feed to your friends list. (If you don't have a LiveJournal just bookmark the page.)
If you don't have a LiveJournal but understand RSS feeds (which can feed news right into your own reader, such as Sharp Reader for Windows and Pulp Fiction for Mac), you simply subscribe to Leaky's Book Six RSS Feed.
You'll find there are categories covering everything; we've been categorizing each item since we started using Movable Type, often putting them in multiple categories (a J.K.Rowling.com update, for instance, would go under "J.K. Rowling" and, depending on what is in the update, "Books," "Book Six," "Book Five," and so on.)
We hope you enjoy this new service. More coming soon.