JK Rowling Awarded Doctor Honoris Causa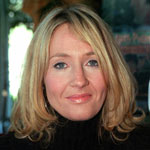 Jul 08, 2004
Leaky reader Alan has sent us pictures from today's ceremony at the University of Edinburgh, where Jo Rowling received a doctor honoris causa. Not a goatee in sight!
Jo gets her degree
Jo talking to fans in the car park afterward, where some had gathered to get books signed.
Thanks Alan!
Update: Check out BBC Newsround's story, with word from JKR and more pictures:
"Receiving this honorary degree is a particular pleasure," said JK. "To receive such a tribute from the city I now call home, and to be in such distinguished company, means a lot to me."
…
Speaking straight after the ceremony, JK gave a little hint about what might happen in the last book. She was asked if Harry would graduate in Book VII . She paused before replying: "If I answer that I give quite a lot away, so I'm not going to!"
Update #2: The Scotsman also has a piece on the event, and there are images from the AP here and Getty Images here.