JKRowling.com Door Open Again; HBP Excerpt Revealed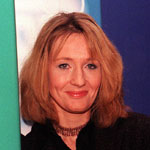 Aug 16, 2004
Uncategorized
The "Do Not Disturb" sign is not on the door on JKR's site at present, but at this point, it seems that only people accessing the site from Europe and Asia can access what's behind the door. (Try the UK version.)
Complete instructions (including screenshots) immediately appeared in our comments section; instructions are now behind the link below (as for screenshots, well, we're saving you some surprise….). Don't click unless you want to be spoiled!
-The door opens to a black room.
-There is a lightswitch you must click around for, about 1/3 of the way across from the left side of the door, starting from just under the door handle.
-A dartboard appears. Use each of the three darts to hit 7, then 1, then 3 (713, the # of the Gringotts vault from SS/PS).
-A security save appears. The code there is 302723. Much thanks to the Leaky reader "roonwit" who figured this out (the number appears on a business card – for Gobb Lynn Secrity Systems – that is now tacked to JKR's Extra Stuff section).
-The excerpt appears. Enjoy!