ADMIN: Welcome to the new Leaky Cauldron!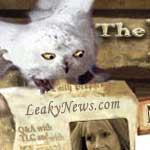 Aug 18, 2004
Uncategorized
Welcome back. We missed you! Did you miss us? We're here at the new server but at the moment we've only moved The Leaky Cauldron. Quick Quote Quill, The HP Lexicon, Hogwarts Galleries, & The Floo Network, (as well as some new domains), will be moved over in the next several days. We'll keep you posted.
And in case you were wondering, we took your excellent suggestion (started by reader NicoTnamide) and named the new server…drumroll please…Serverus. Let's hope it's less finicky than its almost-namesake. Click here to see the server you all brought to The Leaky Cauldron! It is so efficient that our techmasters wrote us with the words, "That… is one… awesome server." Bought by awesome fans.
Please help us de-gnome the place and let us know if you find any nasty doxies lurking about. We're not sure our sneakoscope caught them all!
Our server switch is going to allow us to finally post some things we've been sitting on, some things we've wanted to go public with since the title of HBP was announced. More info soon!
Many thanks again to all of you for your generosity – this truly would not have been possible without our fans' dedication to Harry Potter and to those of us who run TLC. We'd also like to send thanks to Mantissa.net for hosting us for so long and being so gracious, and most of all to Idologic, our new home.