More Rowling tidbits from HP4U JKR Edinburgh Festival Report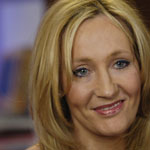 Aug 25, 2004
Uncategorized
HP4U has posted a report from the Edinburgh Festival where JKR answered a few new questions from two lucky young fans.
"…to where JK Rowling was, given our wristbands, then we went to meet her. We said hello and she told us 'she was really glad we could make it'. I told her I was really glad to be there and her books were the best, I said I wish I could have asked her a question and so she told me to 'go on then, ask away!'.
I asked JK Rowling would Professor Lockhart get out of St Mungos, get his memory back and be in any of the next books?, she said no to all of these questions.

I also asked when Harries [sic] parents were killed by Voldermort, Wormtail turned into a rat and pretended to be dead. How then did he give Voldermort his wand and robe back once he found him and helped give him back his body ?, she told me (after tapping her nose!) 'he hid them'.

I wish I could have asked her lots of questions but these were the only ones I could think of at the time."
To read the entire report, at the link, hit "news" (left side), then scroll down.