EW: Prisoner of Azkaban Film One of Summers Best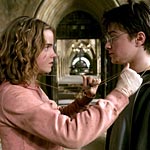 Aug 28, 2004
Uncategorized
The new issue of Entertainment Weekly has a article about this year's summer movies and Prisoner of Azkaban is mentioned as one of the best. Film critics Lisa Schwarzbaum and Owen Gleiberman discuss the best of the summer films:
OWEN: "Look, this was easily the best summer movie season in years, Lisa, and for the reason I think you're talking about: Even the franchises acquired a hint of gravity that lent them drama and heft, a sophisticated staying power. Just consider Harry Potter and the Prisoner of Azkaban, the first film in that series to embody the true terror and wonder of childhood. The Dementors in that movie weren't just great special effects–they were expressions of Harry's deepest fears…..Why did these movies work so splendidly? ….point(s) to an exciting trend: the hiring by Hollywood of daring, eccentric,independent-in-every-way directors to build a better blockbuster….along with the Mexican-born filmmaker Alfonso Cuaron, in The Prisoner of Azkaban, and England's Paul Greengrass, in Bourne, revitalized the very spirit of what it means to go to a sequel. "

LISA: "I'm with you about the importance of what you call"independent-in-every-way" directors in that success–although I'd ditch the I-word and use the out-of-fashion A-word, auteur, to describe what Cuaron, Raimi, and Greengrass et al have achieved. The accomplishment isn't that Cuaron is working by the seat of his indie pants in Azkaban (since nobody with so huge a corporate investment behind him is ever a free bird). Rather, I think the triumph is that even within the studio system, the filmmaker has been able to impose his own vision on the franchise."
Thanks to those who sent this in!