Exclusive: GoF Portkey Scene Filming: Who, Where, What, When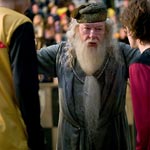 Aug 03, 2004
Uncategorized
Last week HPANA reported that the HP GoF cast was seen filming the Portkey scene (where the Weasleys, Hermione, Harry and the Diggorys go to the Quidditch World Cup) near Berkhamsted in England.
Thank you for the many many e-mails. We waited on posting this because, like many similar tips that come unconfirmed to our inbox but never see this page, we wanted to check it out first, lest we send rabid HP fans tromping around woodland looking for Daniel Radcliffe.
So, here's what we can exclusively tell you: where the filming really is, who and what's in it, and when it'll be there next. Click below.
Filming on the Portkey scene appears in general to have been been slated for early morning, though it makes sense that there would be filming at dusk to simulate dawn light. While we do know a lot of filming went on at the studio at Leavesden last week, that doesn't mean the crew didn't go out there for some dusk shots (to simulate dawn shots) of the Weasleys and Harry going to the QWC. Some of the actors are still underage, though, which makes night shooting after long days at Leavesden unlikely (though by no means impossible).
We have been able to confirm that there was filming in the area last week, and that this scene is actually being shot in Ashridge, a town in Hertfordshire, about 3.5 miles north of Berkhamsted.
There is more slated for this week (Update: most likely Thursday and Friday, since inclement weather postponed plans for filming there tomorrow. We remind that film schedules are by nature volatile, so it may change yet again). Some of this scene will also be shot at the Leavesden studio. It will feature Harry, Ron, Hermione, Mr. Weasley, Ginny, Fred, George, Amos Diggory and Cedric Diggory. The portkey is a boot, as it is in the book.
This area's woodland is renown, seen here at the Ashridge Estate and in Robert Stainforth's photography. In April and May, the woods at Ashbridge feature bluebells.
(And we know you'll all ask how we know, but all we can tell you is this comes from sources we trust who have never led us astray. It's as confirmed as humanly possible, or we would note otherwise.)