Harry Potter and the Book After Seven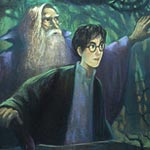 Aug 03, 2004
Uncategorized
We've received several emails with this IMDB link, which reports that Jo Rowling intends to write an eighth Harry Potter book:
The English novelist – currently adding the finishing touches to her sixth Potter book – had previously vowed to only create seven adventures about the magical wizard. But she now wants to add an eighth entry, featuring outtakes she has edited from the series so far. Rowling will donate all proceeds from the book to charity, and publishers estimate the "Harry Potter Encyclopedia" could make in excess of $18 million.
Leaky readers will remember back in March the Associated Press picked up on the story that there will be an eighth book based on a remark made by Ms. Rowling's during this year's World Book Day chat. When asked if she would write any books past the promised seven, she responded:
Probably not. But I'll never say never because every time I do I immediately break the vow.
We also have the FAQ section of Jo Rowling's website, where she says:
Q: Will you write more Harry Potter books after the seventh?
A: If you mean more novels, then I think it highly unlikely. I've got enough story for seven books and I never planned to carry the story beyond the end of book seven. I might do an eighth book for charity, a kind of encyclopaedia of the world so that I could use all the extra material that's not in the books… we'll see!
So, it appears to us at Leaky that IMDB has simply turned Jo's 'never say never', 'I might' and 'we'll see' into 'she wants' and 'will donate' – which makes for a more exciting report, but does not accurately reflect what Ms. Rowling has said.
However, if additional books do develop, we imagine they will be reported here.