Jamie Waylett Interview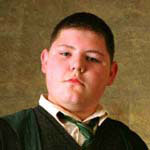 Sep 10, 2004
Uncategorized
HPANA has posted an interview with Harry Potter actor Jamie Waylett, in which he talks about acting, getting recognized, and what we hopefully have to look forward to on the Prisoner of Azkaban DVD:
– there is a scene with Devon [Murray; Seamus Finnigan] in Lupin's class where Dracula (his boggart) takes off his cape and it's a woman in a bikini. She starts dancing because Lupin is playing music, and we all start dancing and Malfoy just hits me like I'm a dog or something. The conga line was funny, that was cut out too.
Warner Brothers, take note: the fans want that conga line!
Thanks to HPANA for the interview!