Patrick Doyle: New Composer for Potter Films?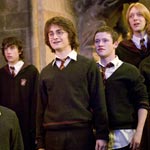 Sep 22, 2004
Uncategorized
JWFan.net is reporting that they have received confirmation from Warner Brothers that the composer for the Goblet of Fire film will be Patrick Doyle. Patrick Doyle is a well known film composer, having worked with Goblet director Mike Newell previously on Donnie Brasko and Into the West. Other film scores by Patrick Doyle include those from many Kenneth Branagh films such as Henry V, Frankenstein, and Hamlet.
The first three Harry Potter films were scored by composer John Williams.
We can not yet confirm this, and will update as soon as possible.
Thanks Emmalinde!