GoF Length Rumor: False Alarm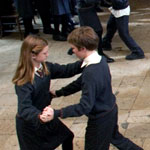 Sep 09, 2004
Uncategorized
This entry has been moved down to soleley the extended version, because the article that prompted it turned out to be old. Heh. No worries, guys! I don't think I was wearing my glasses today, is all; when we get a few emails about a topic it usually means the article was posted today, so there might have been some sort of glitch down the road that caused it to seem new (as it seems a few other sites were also as confused as I was) but in any event, this is a non-news item. Apologies. I think I can still legitimately blame jet lag.


There's a rumor out today that WB is once again "looking into" making GoF four hours long. Before everyone starts shouting that the gods of the petitions have answered everyone's prayers, a few reminders: it would put off the movie schedule by months, the script in its current form (and remember that one has been used for shooting for some months now) would have to nearly double in size (we heard from reliable sources a few weeks ago that the script was not extraordinarily long), this would herald an unprecedented moviegoing event that would need a lot more planning, the film is still planned for November 2005, and we are sure Mike Newell does, eventually, at some point, want to work on other films.
In other words, this would take a miracle to be true. We're not saying there's not a slim possibility (as always, we are looking into it, but sources are already saying, "Uh, no"), but we've heard nothing so far about such a tremendous change in shooting, a change which would affect everyone involved, from cast to publicity. And this rumor could still be true without a single change being made: WB has been "looking into" making this movie four hours long for as long as there's been speculation about this film's production. As it's currently shooting, it's the same ol' Potter movie size.
Thanks to the readers who sent this in!