LeakyLounge 9-Days-to-Go Poll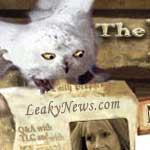 Jul 06, 2005
Uncategorized
Today's Leaky Lounge poll is up, dealing with the kind of things Arthur Weasley might enchant.
You can see a list of our Countdown to HBP polls here; we'll tell you each day when the new one goes up.
Yesterday's poll, Who Will Harry Kiss?, which seemed to inspire a frenzy over there, is closed: the winner, with 52.4% of the vote, was Ginny Weasley. Hermione Granger got 16.18% of the vote, and Luna Lovegood got 15.33% percent.