Tom Felton: Taking a Break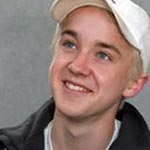 Jan 20, 2005
Uncategorized
Just posted to actor Tom Felton's (Draco Malfoy) website:
I have finished most of the filming now and am taking a rest from the film world and just going back to being a normal 17 year old with meeting up with mates, eating pizza and basically listening to music and just chilling out. So forgive me but I am not doing any more blog diary updates until later in the year when the next film comes out.
In the same entry, Tom warns Potter fans to be careful about purchasing items from eBay, as he has obtained fake autographed photos from that site.
Thanks to the many readers who emailed us regarding Tom's comments!