Azkaban Gets the Golden Tomato Award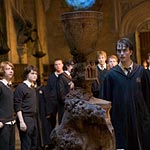 Jan 22, 2005
Uncategorized
Website Rotten Tomatoes.com has given the Harry Potter and the Prisoner of Azkaban film an award. The third Potter movie received the Golden Tomato Award as it was named as overall "Best Reviewed Sci-Fi/Fantasy of 2004". The website notes:
"While the previous Potter movies were respectfully rated, critics have hailed this one as setting a new benchmark for the series. Eleanor Ringel Gillespie of the Atlanta Journal-Constitution, for example, describes Azkaban as being, "everything the first two films were not: complex, frightening, nuanced." Having Alfonso Cuaron as the director made all the difference, apparently: Michael Rechtshaffen of the Hollywood Reporter says, "Where the first two Potters were efficiently if uninspiredly directed by an eager-to-please Chris Columbus, Cuaron has crafted a rich, atmospheric stand-alone motion picture rather than simply a filmed adaptation."
Prisoner of Azkaban was also listed as the seventh best reviewed film of 2004, with "The Incredibles" ranked at number one. Thanks to the readers who sent this in!