Possible Length of Half- Blood Prince Revealed?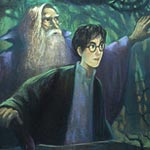 Jan 23, 2005
Uncategorized
TLC reader Jim sent us an interesting bit of news today. On Amazon.com there is an option to pre-order the "Library Binding" version of Harry Potter and the Half-Blood Prince. When you click to read the description of this version of the book, it lists Half-Blood Prince as having 672 pages. Barnes & Noble also have the Library Binding version of the Half-Blood Prince book as having 672 pages as well.
It should be noted that we found out the number of OotP pages about a month after its release date was announced, which is about where we are now with HBP.
The last that we heard, the book was still being edited. This is by no means an official confirmation of the length of the final edited version of the new book. Having said that, it is something of interest. We will keep our eyes on this, and update with anymore information when we can. Thanks Jim!
UPDATE: TLC reader Tina wrote us to let us know that Barnes & Noble also has a
"Deluxe Version" of Harry Potter and the Half-Blood Prince for pre-order. No description of what makes it "deluxe" is given, however it does have the page length for this edition at 704. Tina also tells us that the regular hardback edition for the Half-Blood Prince has the 672 page number listed as well. Thanks Tina!