Waylett: More Funny Emails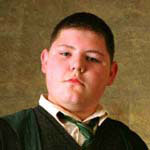 Jan 09, 2005
Uncategorized
Jamie Waylett (aka Crabbe) has updated his blog with more of his funniest emails, which were such a big hit last time:
11/ Are you and Josh brothers?…p.s. he is the one who plays Goyle.
12/ It says on you site that you were born on the 21st of July, 1989, so how old are you really?

13/ Why don't you stop being nasty to Harry !
Enjoy! (These funny e-mails almost want to make us open Leaky's vault of emails that made us go 'D'oh!' Almost. Your secret is safe with us…for now.