Updates at the US/UK Goblet of Fire Official Site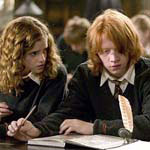 Oct 04, 2005
Uncategorized
Readers have let us know that the US Goblet of Fire official website has had a few updates. They've changed the trailer posted from the old teaser trailer to the recent main trailer for the film. Also, there is a new movie poster up now, which is the one that we saw on ebay yesterday.
The UK Goblet of Fire website has three trailers on it; the teaser and two of the international trailers.
Thanks to all the Leaky readers who let us know!