New Photo of Emma Watson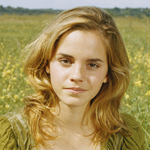 Nov 01, 2005
Uncategorized
Leaky reader Dianne has sent us a scan of a lovely photo of Emma Watson that appeared in the December issue of "Nicola," a Japanese magazine for teenaged girls. We're hoping for a rough translation of the article soon. Thanks Dianne!
UPDATE: Reader "Kiwifruit" was nice enough to send us a rough translation of the Nicola article:
Q.Are you under any pressure from acting in such a famous movie?
A.Yes. Hermione is very hard-working,brave and she values friendship a lot. I was a fan of the book before I knew I was acting Hermione, and I was always cheering on Hermione in the book. I hope everyone can feel near her after watching the movie.
Q.Are you friends with Daniel and Rupert?
A.Yes. Daniel likes to play music while we're getting our hair done, and I always talk and laugh with Rupert. There's many girls as well, so it's like a school!
Q. If you were a Hogwarts student, who would you like most?
A. That's a very difficult question… Cedric Diggory is sooo handsome, so every one would like him, but I think Krum is handsome too…
Oh, I can't decide!
Q.What was your impression of Japan when you came for 'Harry Potter and the Prisoner of Azkaban'?
A.I love Japan! My Japanese friend took me to Shibuya. The girls in the shops are really pretty. It was really different to England. I want to go again!
Q.What do you enjoy doing most right now?
A.Sports and dance.