Entertainment Weekly Feature on Goblet of Fire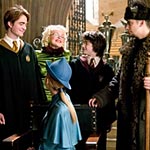 Nov 02, 2005
Uncategorized
Next week's issue of Entertainment Weekly will contain a feature on the upcoming Harry Potter and the Goblet of Fire film. It will contain an article on the fourth Potter movie, and a retrospective of the previous three films with producer David Heyman. There will also be a Question and Answer section with actor Daniel Radcliffe, who plays Harry Potter. A sample:
Four films down. Looking back, how would you describe your growth? "The first film, there was a lot of energy, but the energy wasn't being focused. That's what I'm gaining: focus. Also, on the first three films, I didn't feel I had the right. Now I'm finding it's better to say something than not say anything. Of course, then they say, 'Oh, Dan! Shuffle along.' But in general, I'm more self-assured about Harry being my character."
EW was also nice enought to give us this sneak peek at the cover featuring a nice photo of Daniel, which you can see HERE. This issue of Entertainment Weekly hits newsstands November 7th.
Thanks very much to Entertainment Weekly!