Dinner in the Great Hall Contests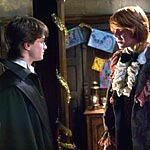 Nov 03, 2005
Uncategorized
As mentioned in the AOL UK Contest post below, there are now multiple contests for a trip to London and have dinner on the Hogwarts Great Hall film set at Leavesden Studios. Singapore Channel 5 is also now promoting this contest for residents of Singapore to enter to win the trip to London in early December. More details at this link.
Yann also let us know about this contest for residents of France, from Allocinefr.
We also told you earlier about this same contest, only this one held in Canada, here. We will compile a list of all the countries participating in this great contest as soon as we can.
Thanks to DanRadcliffeOnline and Yann!