ITV Great Hall Contest; Trio Visit Ministry of Mayhem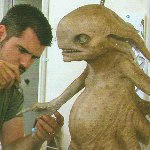 Nov 05, 2005
Uncategorized
TLC reader Andrew let us know that ITV and the program "Ministry of Magic" are joining in with those participating in the Dinner at the Great Hall contests we told you about earlier. Winners of this contest will win a trip to London in early December and have dinner in the Great Hall film set at Leavesden Studios. Andrew writes:
To enter:
Design an outfit you would wear to the Yule Ball.

Who can go:
You and two friends, and mum or dad (don't know if the mum and dad is
compulsary)

Address to send to:
Yule Ball Design
MOM
PO Box 981
ME14 5XE

Deadline:
9th November

NOTE: UK RESIDENTS ONLY!
Also both Andrew and Jennifer both said they saw that the trio of Daniel Radcliffe, Rupert Grint, and Emma Watson are scheduled to appear next Saturday, November 12th on the ITV Children's program Ministry of Mayhem. Please Note: This program was most likely taped in advance and has been re-scheduled to air the weekend of the 12th.