Special Potter/MuggleCast #3!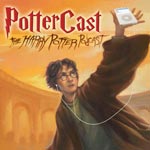 Nov 05, 2005
Uncategorized
The third special podcast between PotterCast and MuggleCast is now up! This is a quick one as we're all so busy with the coming films, and it's all about the details for our upcoming live podcast at the Union Square Barnes & Noble, in Manhattan on Nov. 12, which will take eplace at approximately 7:30 p.m.
Also in this show:
Melissa, John, Andrew and Ben lay down all the details for the live NYC cast
– Special guests include Jeff from HPANA, Aris and Matt from Veritaserum, Jenna (possibly) from DR.com, and Mike from Shurtugal.com
– Ben falls asleep…
– Sleepy head and Andrew announce their Summer 2006 World Tour
– What we'll be talking about, what we'll be doing afterwards, suggestions for your arrival, and more
– Melissa appointed project manager, Trump says "You're fired"
– Send remixes and voicemails to possibly air before the live show to [email protected]
If you are new to all this podcasting stuff, it's really easy: want download and install iTunes, then click here to listen. (There's a tutorial right here.) Our other links will soon be on our episodes page, along with show notes, relevant links and clips. Direct download it here! ENJOY!