Followup: MTV Contest to Win OotP Film Set Visit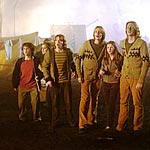 Nov 07, 2005
Uncategorized
Last week, we told you about a UK MTV contest to win a visit to the set of Harry Potter and the Order of the Phoenix. That contest is now open. The site posts the following:
"Things are changing for Harry and they could be for you to. Enter our magic comp and you could be spending a week on the set of the new Harry Potter flick.

Watch the stars cast a spell or two and see how those wizard filmmakers work their magic. And hey, if all that hasn't got you eagerly donning your witches' hat, we might even film your experience and broadcast it to the world over MTV's websites."
To enter, you must answer a question, seen here at this link, and fill out all the information requested. Good Luck!