Half-Baked Voldemort Photo ?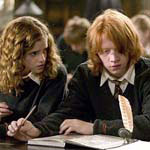 Nov 08, 2005
Uncategorized
A Swedish newssite has posted a new interview with a person who worked on the special effects for the film Harry Potter and the Goblet of Fire. There is a photo accompanying this article, and this is what appears to be actor Ralph Fiennes as Voldemort reborn,in the duel with Harry. Please note: All the effects to the screen image of Voldemort do not appear complete, but Mr. Fiennes' face is clearly errm distorted. While we are uncertain as to what the article says about this photograph, you can see the Angel statue in the background that we have seen in earlier clips, and a hooded Deatheater as well. So, while the special effects and his costume are not yet complete in this photograph, you can clearly see Voldemort's face and hands. SPOILER WARNING AT THIS LINK. You have been warned, but eewww check him/it out! Thanks Elvine!
Update: Marita sent us a translation of the article which you can read below. Please Note: SPOILERS about the description of Voldemort in the article. Thanks Marita!
"He makes Potter's villain scary
Make sure to notice Lord Voldemort in the new Harry Potter movie. He
wouldn't have looked like that if it hadn't been for special effects
creator Marcus Hindborg.
Marcus Hindborg quit his education in computer science and started
studying Entertainment design and technology at Chalmers IT-university. He soon realised that he had a talent for creating movie-effects.
"My grandfather was an artist, but I thought my sisters had inherited
that talent. It was as if a new world was introduced to me when I
started studying," says Marcus Hindborg.
"He has always loved science fiction, fantasy and other movies "that
take me to a different place." When Marcus saw the last Harry Potter
movie, he sat in the movie theatre thinking, "Wow, I'd like to be a part of that." What he saw was the special effects.
Thanks to goal-oriented nagging and convincing tests, the "wow" was
turned into reality this summer. Marcus was hired by the Moving Picture Company in London together with 300 other people. His assignment was to create snake-eyes for the evil Lord Voldemort in the final scenes of Harry Potter and the Goblet of Fire.
Marcus tries to come up with a good translation for his job, which is
"compositor" in English. He simply ends up with the word
"kompositör."
It's about putting together the different special effects in a
picture and making them work together. It's almost like working with
Photoshop, only with moving pictures. It's pretty obvious if it's badly done, because the special effects will look like they're "glued on."
The assignment of the eyes was changed quite quickly.
The director realised that it was just too terrifying for the target
audience of the movie. Instead, Marcus got to work with a different part of the villain's face – the nose.
"I got to erase the actor's nose that was going to be replaced by a
snake-nose. While I was working with the scenes, I actually thought that the scenes were really terrifying. It's good that there's a 11-rating for the movie in Sweden, but I think it's wrong that 7 year olds will get to see it while in the company of an adult. If I had been a kid, I would have been really scared."
When his contract ended after two months, he had worked on six
different clips in Harry Potter and some scenes in the clay-animation Wallace & Gromit and Tim Burton's Corpse Bride.
There aren't many jobs in the special effects business in Sweden.
Therefore, he plans on moving to London together with his family.
"If you want to work in this business, you'll need to move abroad. At
least for now. Maybe it'll be better in the future."