Steve Kloves Interview in Creative Screenwriting Magazine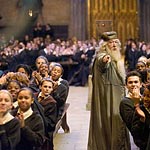 Nov 08, 2005
Uncategorized
The new issue of Creative Screenwriting Magazine features a three page interview with Steve Kloves, discussing his adaptations of the the first four Harry Potter books for the big screen. The cover features a photo of actor Daniel Radcliffe, with the teaser about the Potter feature reading:
Four Years at Hogwarts: Steve Kloves on Harry Potter, Procrastination, and Wrestling the Book onto Paper

The Muggle who brought J.K. Rowling's first four Harry Potter novels to the screen talks about how Harry is growing up. And yes, Steve tells us if he's coming back for The Half-Blood Prince.
Anyone with scans please send them in! Thanks Brian!