Dan Radcliffe Interview in Blender, More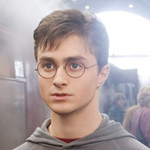 Dec 01, 2005
Uncategorized
Blender magazine has a new interview with actor Daniel Radcliffe (Harry Potter), who talks about his love of music. The interview focuses on his thoughts and reactions to some of the rock and punk albums he loves. This editor admits she very much enjoyed the following about the great punk classic album by the Sex Pistols. Dan Quotage:
" I love real punk – not Avril Lavigne, who thinks wearing a tie is punk. This is my favorite album of all time, and I got into it during the filming of Harry Potter 2, when I was 12. I was obsessed with punk back then. If the Beatles were a phenomenon, then the Sex Pistols were a revolution. Punk is about rebellion, about not caring what other people think of you, and being free. And it's not about fighting. I don't fight. I don't spit, either."
Rock on! There are also three new good photos of the actor, which you can see below.
Also, Jas from DanRadcliffeonline.com let us know about this funny interview clip on Sunrise with Dan as he discusses the bathtub scene in Goblet of Fire. Enjoy!
Thanks Jas and UHP for the headsup!