ADMIN: Subscriptions, Preorders and Floo, Oh My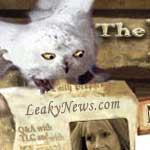 Feb 18, 2005
Uncategorized
We've been tidying up behind the scenes here on Leaky and you'll notice a few changes (for those of you on the text-only version of the site, come to the main page to see everything. All of this will be made text-version-available in the near future).
So let's do a quick tour.
1. First, look up. Under the HBP countdown are preordering links for HBP (this feature is way overdue). These links refer to Leaky, so by preordering through them you support the site, which has expanded of late beyond all imagination. Many more thousands of you come here each day than ever before, and so we are once again climbing in expenses. Don't worry, we're not panicking at all; we have a lot of extra money put away from the drive, but it's not wise to run through it all (and at the rate we're going we will), so we are setting up precautions that stave off cost and keep a well of funds for future development (of which we have plenty planned), in the event we need a second server. (We have more solutions regarding this on the way.) Buying your HBP through one of these links helps us serve you better, and doesn't cost you anything more than you were going to pay for the book anyway. At the moment it's only for British and American editions (sorry world, we haven't forgotten you, just hang tight).
2. Now, look down, right below this entry. The field that says which category this entry is filed under has been there for a few days; now, next to it, is a text box that asks for your e-mail address. This is to subscribe to the category this article is in. For instance, this article is in the Admin category; if you are really crazy over the technical changes to this site and want to be notified by email whenever we make a post announcing one, you enter your email address into this box, and press "Subscribe." Now, whenever a post filed under 'Admin' comes up, you will be notified via e-mail.
3. Look to the right. There's a red box in the sidebar for the Floo Network; it pulls random quotes and facts and images from the QQQ, Lexicon and Hogwarts Galleries, respectively. We get many questions and confused statements from readers about the function of the Floo, so we hope this helps clarify what each site does and where it fits into the larger verse of the HP world. (And we think it's fun.)
4. Look below that box. Now there's a "Leaky Hot Topics" box. This was created with a neat little programming feature that automatically pulls the most-discussed and linked news items and lists them. It tells you what everyone's talking about.
5. Directly below that are your "big news" links, which aren't new. But below those are more subscription links for you: permanent links where you can subscribe to the three areas of the site we thought would be of most interest to you: our whole weblog (meaning you get an email every time we update), HBP (you get an email for book six news) and GOF (you get an email for GoF movie news). And our LJ links, RSS feeds and such are still there, either in the box itself or linked to a page that holds everything. Please note that the tremendous list of people who signed up to be notified about the release date ARE NOT on the HBP list; you must resubscribe to get headlines. Also please note that the glitch of old, where readers got many copies of notification emails, has been fixed; you will only get one now, thank goodness.
And…phew! That's it…for now! This is all made possible by MovableType, our content management system, and the great programmers who devise little tricks and other fun things to improve functions – specifically Chad Everett, who is responsible for the notification system. I've learned a lot about programming in doing all this and had fun; in turn we hope you enjoy all these new elements of Leaky!