Empire Online Talks Potter Films with Watson and Heyman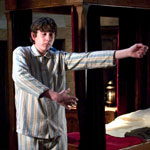 Feb 18, 2005
Uncategorized
Empire Online caught up with Emma Watson (Hermione Granger) and Potter film producer David Heyman after this year's BAFTA awards, and has a brief interview with them. David Heyman spoke about the changes in the next two films, and especially hightlighted the changes that will be evident in the fourth Potter film with new director Mike Newell at the helm.
"I'd say there are certain things about this film that are more British- the anarchy, and the specific Britishness of the school is highlighted in a way that hasn't been previously filmed by a Mexican or American director, and there are nuances…that will be appealing the world over, but are very much British."
Emma Watson addressed her thoughts about whether Ron Weasley and Hermione should get together, and the possiblity of them maybe even..kissing:
"I hadn't actually heard that…I have to say eventually, I think it would be nice if Hermione and Ron ended up together, because they…it's just got to happen really- that's my feeling anyway. I don't know what J.K. Rowling's got in store for them," she said, before adding "And that's the book and the film, not real life!"
Thanks to Harry Potter Fan Zone for the heads up!