Toy Fair News and Official Lego GOF Info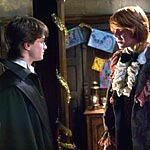 Feb 18, 2005
Uncategorized
Toy Fair is taking place in New York city this weekend. This is a huge event where the toy industry reveals their new products for this year. Warner Brothers has sent out a press release about their movie tie-in products to be shown at Toy Fair, and had this to say about the Goblet of Fire toys.
"A new line of toys from Mattel, LEGO and others, based on the latest film in the Harry Potter saga, Harry Potter and the Goblet of Fire will focus on magical and imaginative play patterns that are sure to cast a spell on fans of this beloved property."
In related news, Action-Figure.com has now posted the official Lego press release about the new Goblet of Fire Lego sets that will be released in October. At this link, you can read detailed product descriptions and see new photos of these sets that we told you about a few days ago, as well as see a new photo of the artwork for the boxes.