RowM Features New Toys from Mattel & Lego; New GoF Images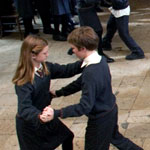 Feb 21, 2005
Uncategorized
Our friends at RowM have posted their galleries and first articles on the 2005 HP toy lines from LEGO and Mattel. The photos are more detailed than any that've been
released thus far, and the Mattel article includes a full listing of their products. Mattel's showroom also used a bunch of previously unreleased GoF images, including pictures of Fleur and Cedric.
The LEGO article is here and Mattel's new line is here.
Thanks Lauren & RowM!