Rupert in Bogie Final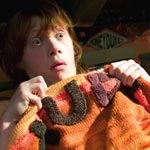 Mar 11, 2005
Uncategorized
As part of Red Nose Day in the UK, Rupert Grint (Ron Weasley) is running around shouting "bogies!" as loud as he can. We are so proud.


Rupert took part in the special Pro Celeb Bogies event to raise money for Comic Relief, winning a semifinal on Monday, and is competing right now (Red Nose Night in the UK) in the final on BBC 1. Reports from readers say he is walking around Madam Tussaud's with presenters Dick and Dom, playing the bogey game, where one person shouts "Bogies" and the next person has to shout it louder – and louder – and louder – and louder.. check the volume on your TV sets so you don't go deaf.
Video here, from Milly. WMV, 8.4MB.
(NonUK people…"bogies" are the American equivalent of…"boogers." We think Ron would find this amusing, too.)