Film Review Set Report on Goblet of Fire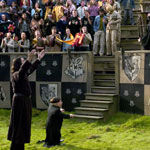 Mar 25, 2005
Uncategorized
TLC Reader Elaine let us know that the new issue of Film Review magazine contains a set report about the making of Harry Potter and the Goblet of Fire. The article details the special effects used for the film, such as the work done on the dragons, and has some slight new information about the second task. While there are not any new photos included with the article, Elaine did send along some of these quotes from the report:
"Surprisingly, many of the visual effects were physically created before they were enhanced on computer graphically. The 30-foot maze that features in the tri-wizard tournament was actually built at pinewood studios before it was replicated to feature in the Scottish valley where Hogwarts is situated. Of more epic proportions the crew had the mammoth task of constructing a 40 foot long dragon, which could roar, lash its tail ferociously, and breath fire the same length as its body.

Life like silicone dummies of the children were created for the lake scene, able to move and emit bubbles from their mouths when underwater."

…"Similarly the elaborately grotesque appearance of Mad Eye Moody was created through prosthetic make-up rather than in post-production as the studio originally requested. "
We will try to bring you more about this article when we can. Thanks very much Elaine!