ON TLC: New GrandPre Artwork on HBP Standup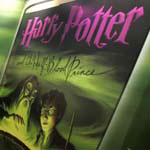 Mar 30, 2005
Uncategorized
We've got the hi-res HBP new artwork for you, which should take the guess-work out of just what or who (or maybe what AND who?) is in the new portion. And that's all we're saying about that until you see it for yourself!
Again, if we are to keep these images unwatermarked we ask that other sites link to the following pages instead of downloading and reuploading. Thank you.
And again, we've got them for you in two sizes: BIG and HUGE (this time it's all right).
We're glad to see everyone enjoying the theorizing in the comments – for even more theorizing/discussion, go to our forum! You can also vote on the identity of the girl on the cover at the forum, but you have to be registered to see it, so go on!