Scholastic "100 Days Until Harry" Campaign to Begin April 7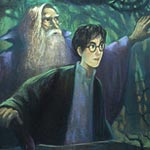 Mar 30, 2005
Uncategorized
Scholastic has sent TLC a press release describing its HBP campaign, set to kick off on April 7, when there are 100 Days Until Harry. The multitiered campaign will include a national advertising campaign; a first-time ever Harry Potter crossword puzzle in The New York Times; online activities and downloadables; promotional giveaways; and midnight parties at retail locations across the country.
To see a photo of the stand-up HBP advertisement, of which 40,000 will be made, click here – NOTE: There is new artwork on this standup, may contain spoilers.
Also:
" "Who Will Be the Half-Blood Prince?" will appear as video spots on airplanes and electronic billboards, as national radio spots, online, and in print media nationwide. A unique crossword puzzle entirely devoted to Harry Potter – a first time ever component of a children's book marketing campaign – will run in The New York Times on Sunday, July 10th reaching 3.5 million readers. Also in July, approximately 50,000 domestic flights on Continental Airlines and American Airlines will feature 30-second and one-minute video ads. Beginning with the midnight release and continuing through July 23rd, Harry Potter will once again command the Times Square Billboard in New York City with special 5 minute promotional spots at midnight followed by 15-second spots every hour that week for a total of 10 million impressions. In addition, Scholastic will run national radio spots and Google banner ads."
In March, retailers received oversized bookmarks and HBP brochures for distribution (seen here on Leaky).
The promotion will continue on Scholastic.com with a downloadable countdown clock, a "fact of the day," more polls, games, and the already-announced poster.