Barty Crouch Jr. or Lupin Tapped for Who?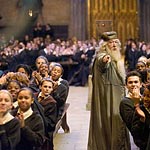 Mar 31, 2005
Posted by Melissa Anelli
Uncategorized
According to BBC News, David Tennant, who plays Barty Crouch Jr. in GoF, is rumoured to be the most likely candidate to play the Doctor after Christopher Eccleston announced he is leaving the show. Also rumored for the role is David Thewlis, a.k.a Remus Lupin, according to the Mirror. Thanks to everyone who sent this in!