New Devon Murray Interview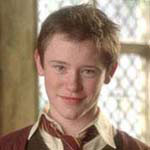 Apr 11, 2005
Uncategorized
Over the weekend actor Devon Murray attended a pop expo in Australia and the Sunday Mail was able to get a new interview up with the actor who plays Seamus Finnigan in the Potter films. He talks about the changes made to his character over the course of the films, saying that on-screen Seamus was made to look " urban and scruffy and have rings." Devon is very enthusiastic about the upcoming Goblet movie, telling us to "expect everyone to be older, wiser and cooler."
But Devon said his favourite part of the film was the Triwizard Tournament, where the three biggest European schools of witchcraft and wizardry-Hogwarts in Britain, France s Beauxbatons and Durmstrang (which may possibly be in Bulgaria) – meet together to compete and to promote international magical co-operation and alliance.

"When the other schools come to Hogwarts,that was great, Devon said. And the best part? "A lot of pretty girls."
Devon also talks about life on the set being just like a real high school with plenty of "crushes and gossiping," but says that he and the rest of the cast are "like family now."
Please Note: This article is not yet online, but you can read the whole interview below.
IT doesn t hit our cinemas until December, but the buzz surrounding
Harry Potter and the Goblet of Fire is already deafening.
Factor X had a chat with one of the movie s stars, Devon Murray (he
plays Harry s Gryffindor House pal Seamus Finnigan), and he gave us the goss on what life is like at Hogwarts- warts and all.
First up, he said to expect everyone to be older, wiser and cooler.
Harry, Hermione, Ron and the others are kids no more.
It s their fourth year at Hogwarts School of Witchcraft and Wizardry and in the film they ve really grown up. "It s another year at Hogwarts and all the students are getting older and also a lot more mature." Devon said.
"They re looking for more mischief and all that.They re trying to do more mad things."
The 16-year-old Irish actor has grown up acting in the Harry Potter movies, appearing in the first one when he was 12.He says life on the set is just like a real high school, with plenty of crushes and gossiping.
"Oh, it s like that,with people going, Oh he s really nice or, She's really nice. "You have people meeting up and going out for dinners."
But Devon says he didn t fall for any of his co-stars. "We ve all grown up with each other so none of us are, like, I love you or whatever.We re like family now.
Devon said there are lots of new characters and some exciting scenes in the Goblet of Fire. And he even gave Seamus a bit of a makeover.
"Well, Seamus in the first and second film was a little bit too
tidy, he said. "Then in the third one the director asked what I think Seamus should be like and I was saying he should be urban and scruffy and have rings. "So that s what happened with Seamus. He got all scruffy and had his two rings.
But Devon said his favourite part of the film was the Triwizard
Tournament, where the three biggest European schools of witchcraft and wizardry-Hogwarts in Britain, France s Beauxbatons and Durmstrang (which may possibly be in Bulgaria) – meet together to compete and to promote international magical co-operation and alliance.
"When the other schools come to Hogwarts, that was great, Devon
said. And the best part? "A lot of pretty girls."
The shooting for the fourth film finished last month in Scotland and already Devon is flying across the world, leaving his home in Ireland to come and say hi Down Under. He is in Brisbane today to meet fans and answer questions at the pop culture expo Supanova.
While he is here, Devon is hanging out with a good mate,New Zealand actor Daniel Logan, who played Boba Fett in Star Wars: Episode II – Attack of the Clones. The pair met at a science fiction convention two years ago and became good friends, snowboarding together and hanging out having a laugh.
"Me and him,we re always out and about and off for a laugh,mucking
around.
Devon, who is an only child and calls himself an attention-seeker,
has spent most of his life in front of a camera. He said being part of the Harry Potter phenomenon hasn t changed him personally, but it has turned his life upside down.
"You can t walk down the street without somebody going, Oh, isn t
that….no,it isn't…yes it is. "As Emma (Watson, who plays Hermione) said, if you re in a film, people don't expect you to be out. "They re all, like, Nah it can t be suchand-such, they re in films .
If you d like to prove that theory wrong and actually meet Devon
Murray, Daniel Logan and other science fiction film stars in person, pop into Supanova today at Brisbane s RNA Showgrounds,
Gregory Terrace, Bowen Hills.
For more info on the expo, check out www.supanova.com.au/