Goblet of Fire: The Game and Pics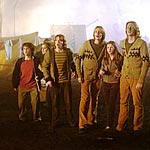 Apr 12, 2005
Uncategorized

Update: Here are the pics, courtesy of IGN.com.
Indeterminate Animal (1)
Indeterminate Animal (2)
Indeterminate Animal (3)
Drawing of crumbling courtyard
Fiery drawing
Harry (1)
Harry (2)
Hermione (1)
The Trio
The Trio and the Indeterminate Animal
You can pre-order this game in the US already (it ranges $29-$49), for the platforms Sony PSP, Nintendo DS, XBox, PlayStation2, GameCube and GameBoy Advance – all linked here at the Cauldron Shop.
EA, the makers of the Harry Potter video games is set to announce this morning details about the Harry Potter and the Goblet of Fire videogame. There will be some new features, and a special new look to the game. According to Reuters, for the first time, the virtual characters in the game will look like the actors in the movies.
Potter (played by Daniel Radcliffe), Ron Weasley (Rupert Grint) and Hermione Grange (Emma Watson) are all playable characters in the game and will look the same in both media.

Players also will notice two new game features. When casting a spell, players will "feel the magic" as the controller shakes in reaction to the wand's motion. Also, co-operative modes allow players to join forces to combine their skills and power.
UPDATE: In addtion to the information about the characters looking like the movie actors, from the EA Press Release comes these details about what events are in the game.
In Harry Potter and the Goblet of Fire, Harry is mysteriously selected as the fourth competitor in the dangerous Triwizard Tournament(TM). Each contestant in this international competition must confront a fire-breathing dragon, rescue friends from the icy depths of the Black Lake, and navigate the twisting mysteries of a vast, dangerous maze. Players will experience all the thrills of the movie — from the Quidditch(TM) World Cup campsite to a heart-stopping duel with Lord Voldemort(TM) himself!
The Harry Potter and the Goblet of Fire videogame will be released in November. It will be available for "PlayStation®2 computer entertainment system, PSP(TM) handheld entertainment system, Xbox® video game system from Microsoft, Nintendo GameCube(TM), Nintendo DS(TM), Game Boy® Advance, and Windows PC. "