Quidditch World Cup Set Report on HP4U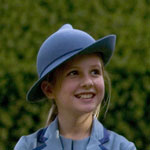 Apr 14, 2005
Uncategorized
HP4U.co.uk has posted a new set report from the filming of Harry Potter and the Goblet of Fire. This time, the set report is from a young boy who was an extra during the filming of the Quidditch World Cup scenes. The report does not contain too many details, but it was clear that this lucky youngster had a wonderful time.
The scene we were filming that day was for the opening scenes of the match between Ireland and Bulgaria. We were doing close ups of the stand in the World cup stadium. I was to be seated next to Harry, Ron, Hermione, Mr. Weasley, Ginny, the twins and lots of others and we were all to cheer on our teams. Some of us were really dressed up in cool gear. Jesters hats, faces painted and Bulgarian and Irish Quidditch tops.
CLICK HERE to read the entire report. Thanks very much to Tyleete!