Amazon: HBP to Arrive on July 16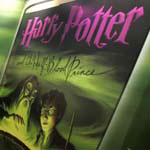 Apr 05, 2005
Uncategorized
Putting to rest recent speculation that the book would arrive as late as July 23, Amazon.com has announced that all orders of Harry Potter and the Half-Blood Prince will arrive on July 16, for no extra shipping charge. The book will be delivered via United Parcel Service Inc. and the U.S. Postal
Service, and the company will refund customers in the continental U.S. who don't receive the book on time.
You can pre-order HBP using the links in the drop-down list at the top of this page; also, this post can serve as a hint to what the new piece of punctuation on our site design represents (to those careful Leaky readers who have noted it already). And that's all we're saying about that!