Worldwide HBP Release Party Contests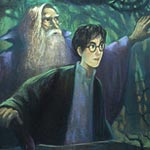 May 14, 2005
Uncategorized
Contests are already underway worldwide to determine who the 70 "cub reporters" who will be at Edinburgh Castle on July 15, and grilling JKR on July 17.
The contests, as announced on JKRowling.com, are underway in Britain, Ireland, South Africa, Australia, New Zealand and Canada. What we have found is below, but this post will be updated as we get more information.
Canada:
Raincoast Books: Contest starts June 1; click on http://www.raincoast.com/harrypotter/ between June 1 and June 16 for more info.
Chapters Bookstores: Click the link and write why you or your child is the world's biggest Harry Potter fan, in 50 words or less.
UK:
Bloomsbury: Click on the link and use 50 words or less to finish the line, "I'm the biggest fan of the Harry Potter books because…" You can only enter the newspaper The Sun's contest if you buy the newspaper itself.
The Daily Record: call their hotline with the name of the new Potter book and your personal info. The contest closes May 20th, and there is a charge for the call (thanks, Kirstine!).
The Observer: complete the following in fewer than 100 words – "I would like to meet J K Rowling because…" and send in your answer before 6pm on May 20 to the snail-mail or email address on their website. Thanks to Euan for the information!
If you're in one of the countries listed and your contest is not here, please send us an email at [email protected] with the following information:
Country:
City, if applicable:
Newspaper or publisher:
Deadline for entries:
Summary of contest/how to enter:
URL of contest information (if you know it):
Additional information:
We're updating this post as our readers update us with contest news, so keep that info coming!