ADMIN: Security Issues and Peeves (And ??s :)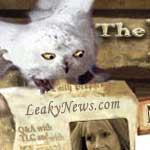 May 16, 2005
Uncategorized
Morning all – it seems a group of grammatically-challenged, miscreant, script-kiddie Slytherins has been cruising the fandom overnight littering question marks and strange links across all the Harry Potter sites. We're doing an audit of our security measures and trying to track down the culprits.
Meanwhile, we've gotten so many questions about the rogue punctuation, including the posting of a massive Leaky Lounge topic, that we've created this entry for comments and questions.
Thanks for being patient and we'll keep you posted.