ADMIN: Server Bogged, Downtime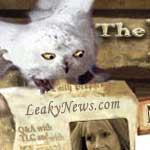 May 16, 2005
Uncategorized
Our new server problems are a result of the culmination of all the wonderful news last week – Ms. Rowling linking to us through the Fan Site Award, and the Harry Potter Publishers and news media linking to her site via the major news regarding contests. As such, our server traffic is off the charts.
To mitigate these issues, we've temporarily shut off the forums. They will come back online shortly and then go back offline from 3pm ET to 5pm ET for maintenance. Sometime between 4pm and 5pm ET the entire server will be reboot and we'll go off the Net for several minutes – we will try to have a more solid timeframe for that soon. As far as bandwidth problems: to avoid this load in the future, our forums need to be moved onto their own server. We're upping advertising until we can manage that.
Now, for the Punctuation Poltergeist? Turns out it wasn't the Slytherins – just that wretched, raspberry-blowing, pest. Well, you are all smart. Follow the trail of rascal Peeves and you will find the answer.
Thanks for your patience.