Scholastic Books Announces Essay Contest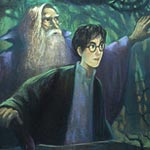 May 16, 2005
Uncategorized
Scholastic.com launched an essay contest forkids today, promising 10 winners a trip to London to celebrate the release of Harry Potter and the Half-Blood Prince onboard a midAtlantic flight.
Entrants must write an essay explaining "Why I Love Reading Harry Potter," and must be no older than 18 as of June 16, 2005. Winners will depart the last flight out of New York City to London on July 15, and at 12:01 a.m., will receive free copies of HBP, curing in-flight boredom for the rest of the way.
The winners will enjoy a 4-day, 4-night vacation to London. NBC's "Today" show will announce the winners on July 1.
The essays must be no more than 300 words. They will be judged based on "originality, clarity and the child's ability to describe their unique connection to the Harry Potter books and why they love reading them." Entrants must be legal residents of the United States Deadline for entries is June 16, 2005.
To enter and read more details, go to Scholastic.com.