Empire Interviews Pattinson, Ianevski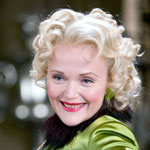 May 25, 2005
Uncategorized
Empire Online has posted an interview with two new actors who talk Quidditch from the upcoming Harry Potter and the Goblet of Fire film. Stanislav Ianevski, who plays Durmstrang TriWizard champion Viktor Krum, spoke about his role in the film and playing Quidditch.
"I play Quidditch for the Durmstrang School," said Ianevski, "and for Bulgaria at the beginning in the World Cup. It was a great experience. I never imagined I would be riding a broomstick, flying around chasing a little ball, but it went well, I think. It's like entering a whole new world – a great new experience, it's just fantastic."

So could Krum beat Potter at Quidditch? "Ummm, he's quite good at flying, but I might pick up on his skills, so I don't know."
Robert Pattinson, who plays Hufflepuff Captain and Seeker Cedric Diggory in the film which is due November 18th, also talked briefly about his thoughts on Quidditch in the movie. "Pattinson, however, didn't get to spend quite so much time in the air. "He's the guy who's actually playing, but I don't actually do any Quiddictch in the movie. I do a bit of talking about Quidditch, I guess." He goes on to describe the film as a whole, and how he thinks this will be the best of the four films to date. Pattinson also says this about the film's final squences with the return of Voldemort:
"I'm not actually allowed to say anything about it, but it is fantastic. That will be the most stunning sequence in the Potter series."
Thanks Lizzie!