ABC Commercial on WB Harry Potter Site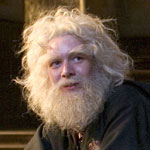 May 03, 2005
Uncategorized
In case you missed it earlier, the ABC commerical with the clips from Goblet of Fire has now been posted on the official WB Harry Potter website. As a reminder, during Saturday's telecast of Chamber of Secrets, ABC will be including the sneak peek at the upcoming Harry Potter and the Goblet of Fire film. The commercial for the broadcast includes some new video from the sneak peek. Andy, from Harry Potter Fanzone let us know that he has posted some 45 high resolution screencaps of the commercial which you can see here.
Also, in a press release, WB notes that the Chamber of Secrets broadcast will indeed include 13 minutes of deleted scenes from the film , along with the behind the scenes look, interviews, and clips as a sneak peek at Goblet of Fire. The press release from WB also has this description of the 4th Potter film which will be released on November 18th, 2005.
In 'Harry Potter and the Goblet of Fire,' the fourth film adaptation of J.K. Rowling's popular Harry Potter novel series, Harry (Daniel Radcliffe) must contend with being mysteriously selected to compete in the prestigious Triwizard Tournament, a thrilling international competition that pits him against older and more experienced students from Hogwarts and two rival European wizarding schools. Meanwhile, supporters of Harry's nemesis, the evil Lord Voldemort (Ralph Fiennes), send a shockwave of fear throughout the wizard community when their Dark Mark scorches the sky at the Quidditch World Cup, signaling Voldemort's return to power. But for Harry, this is not the only harrowing news causing him anxiety – he still has yet to find a date for Hogwarts' Yule Ball dance.
In a related note, the USA Today has a piece that says the trailer for The Chronicles of Narnia will air during the Chamber of Secrets broadcast on ABC Television Saturday at 7pm(ET). The article says that the telecast will air in 30 plus countries. Actress Dawn French (the Fat Lady in Azkaban), is the voice of Mrs. Beaver in the new Narnia film.
Thanks Andy!