Sun Cub Reporter Gives Trip to Ill Sis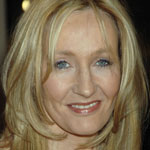 Jun 14, 2005
Uncategorized
The Sun announced yesterday that its cub reporter contest winner, Sian Brennan, gave her trip to meet with Jo to her sick twin sister, Zoe.
Sian invented and drew the "groggle," a creature who saves Harry's life, and in a phone poll Sun readers chose him as their favorite.
The twins are from Newtownards, Northern Ireland, and both suffer from lupus, a disease in which the body's immune system harms itself.
Sian, 14, said: "Zoe deserves this. I think she is a great sister and I would like to reward her for what she has done for me. She is always there for me.

"She's encouraged me. She has always been very positive."

Zoe said: "I'm really grateful to Sian. She has made my dream come true."
Sian described a groggle as an "ideal friend" with hairy arms and legs, huge hands and feet, two mouths, black eyes, a big belly, and an affinity for "chocolate frogged muffins." She said that he wears an old white tablecloth, and "when he moves it's like a whirlwind." Read the whole article here.