UK Amazon lowers price of Half-Blood Prince book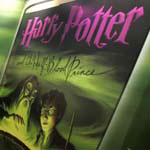 Jun 24, 2005
Uncategorized
Several TLC Readers let us know that today they received an email from retailer Amazon UK, letting them know that the price of the Harry Potter and the Half-Blood Prince book had been lowered. The email said in part:
At Amazon.co.uk, we are always looking for ways to bring value to our customers. We are, therefore, delighted to confirm that we have reduced the price of Harry Potter 6 to just £8.99 (47% off) and that all our customers, muggles and wizards alike, will benefit from this reduction.
This move comes at a time when is there is an apparent price war taking place between retailers in the U.K. over the lowest price for book six. You can still pre-order the U.K. version of the Half-Blood Prince at this new low price with release day delivery here, via our shop.
Thanks Ian and Dawn!