Associated Press Publishes Four Part Feature on the Harry Potter Series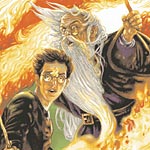 Jun 26, 2005
Uncategorized
The Associated Press released today four articles all about the Harry Potter book series. The story had been accidentally made public Friday and then pulled down, but is released from embargo today, the first part, focusing on the merchandising surrounding the launch of the new book, available on Yahoo! This time, the article says, booksellers are not putting out as much Potter-related merchandise, focusing mostly on the book itself.
"We've got Harry Potter pens and bookmarks, and a few of those types of things. But that's really it. There definitely will not be as much as the last time," says Beth Bingham, a spokeswoman for the superstore chain Borders Group, Inc.
Sales of the new Half-Blood Prince book however, are expected to be quite strong. One bookseller, B&N CEO Steve Riggio, says, "we will sell about 50,000 copies per hour in the first 24 hours … Less than one per cent of all books sell that many in their lifetime."
Other articles that will be released in various media today include topics which I suspect that most Leaky readers will know by heart. Each newspaper picks and chooses what to use from an AP article, nothing whole has yet appeared, but the original story lists character descriptions. For instance, this is what the article says about Ron and Snape:
RON WEASLEY: Ron is one of Harry's two best friends at Hogwarts, and a Gryffindor. Tall, with red hair and freckles, he is sometimes envious of Harry's fame, and is embarrassed by his family's lack of wealth. He and Harry stopped speaking for a while after Harry was entered into a magical competition in Book 4, but they made up after Ron realized that Harry was in danger. Ron is deathly afraid of spiders, ever since his older brother turned his teddy bear into one when Ron was a toddler. He's now a Gryffindor prefect, on the Quidditch team, and as always, right there in the thick of things with Harry. There also seems to be a thing developing between him and Hermione Granger.

SEVERUS SNAPE: Head of Slytherin House, Snape is professor of potions. But he really wants to be the defense-against-the-dark-arts teacher. From the minute Harry arrives at Hogwarts, Snape detests him. But while he does many things to make Harry's life difficult, he's also something of a contradictory character. The first year, he kept Harry safe – an act of honor since James Potter once saved his life. A former Death-Eater, he left Voldemort's service and went to work for good. That makes Dumbledore trust him, even though others don't.
Update: The full character descriptions can now be found here, this article summarizes each of the five books, and this last one has a short quiz on HP.